I sat down yesterday, fully intent on writing this post.
These baked pumpkin doughnuts were the product of a pumpkin puree using up session, and a recently purchased doughnut pan.
I hadn't wanted to post too many pumpkin recipes in a row, so the photos had been filed away, waiting for an opportune moment.
After scanning through my scribbled notes on several dozen scrappy bits of paper (my idea of organisation) I was ready to start writing.
Or at least, I thought I was…
As I began to fill in the ingredient list, the first problem surfaced: How many doughnuts had the batter made? Was it ten? Or eleven?
I couldn't remember.
And the doughnuts were long gone.
Okay, what about the salted maple caramel. That deliciously gooey, sticky-sweet salted maple caramel sauce that took these doughnuts from tasty baked goods, to nope, sorry, I'm not sharing these with anyone!
Um, where are the notes on ingredient quantities for the salted maple caramel? What about the instructions for making?
There was nothing.
At all.
Apparently, I'd had one of my forget to write it down moments. It happens. Often.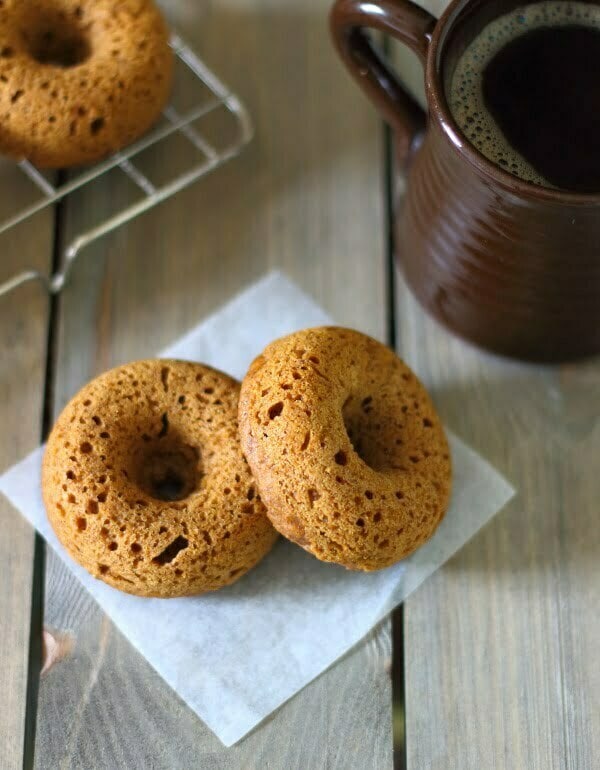 I huffed. And I puffed. And I swore (just a little). Then I took a fresh sheet of paper, a pen, and another (um, technically my final) can of pumpkin puree into the kitchen.
And for you, I started again.
These light 'n fluffy cake doughnuts are baked, not fried! Packed full of warming autumn flavours like pumpkin, cinnamon, ginger and nutmeg, they're melt in your mouth good. They even have a little extra oomph in the healthy fats and fibre department from the coconut oil and wholemeal flour.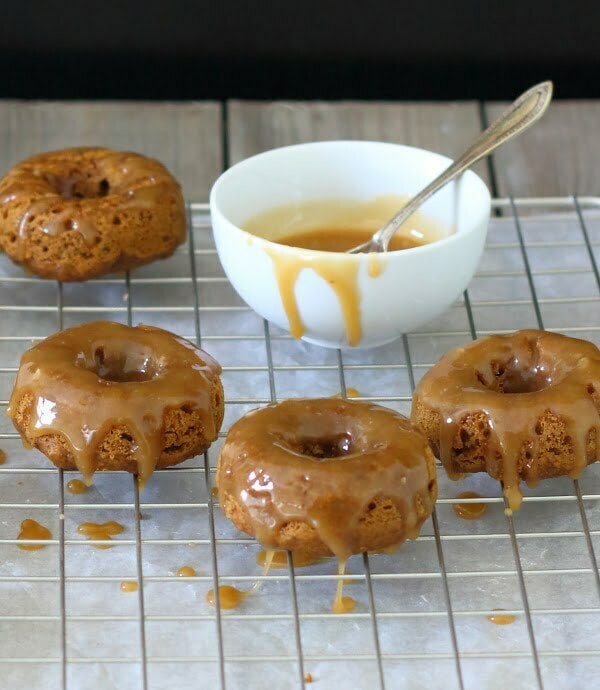 To finish them off, and turn them into an extra-special sweet, sticky treat, they're drizzled with a thick, glossy, maple caramel sauce, made with just a touch of sea salt to cut all that sweetness. For the record, this isn't a glaze – at least not a traditional one that sets hard. To make that sort of glaze, mucho extra sugar is required, and I just couldn't do it – it was hard enough to persuade myself to use 1/3 cup of maple syrup – my teeth hurt at the thought of multiple cups of sugar!
Instead, this is a thick, rich caramel sauce that I just want to eat with a spoon (I try not to, I really do!) It does crystallise a little on the surface as it cools, but also stays soft and sticky and gooey at the same time (does that even make sense?!?)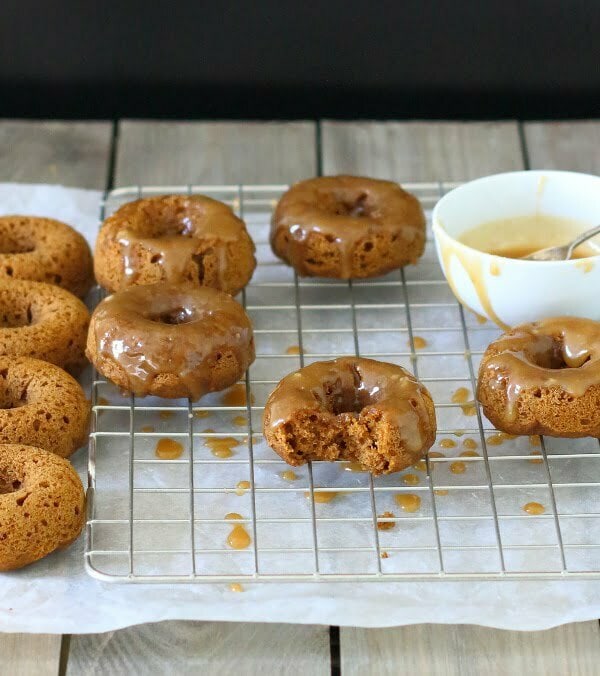 To me it tastes like liquid tablet – a dangerously addictive Scottish sweet that I cannot allow myself too near. That's why I've made such a small amount, there is enough to glaze the doughnuts and no more! If you want to make extra, feel free to double the recipe – I guarantee you won't have trouble finding ways to use it up!
And just for the record?
It makes eleven doughnuts. Eleven, soft, fluffy, baked pumpkin doughnuts, covered in sticky, salted maple caramel.
Just don't expect them to hang around for long…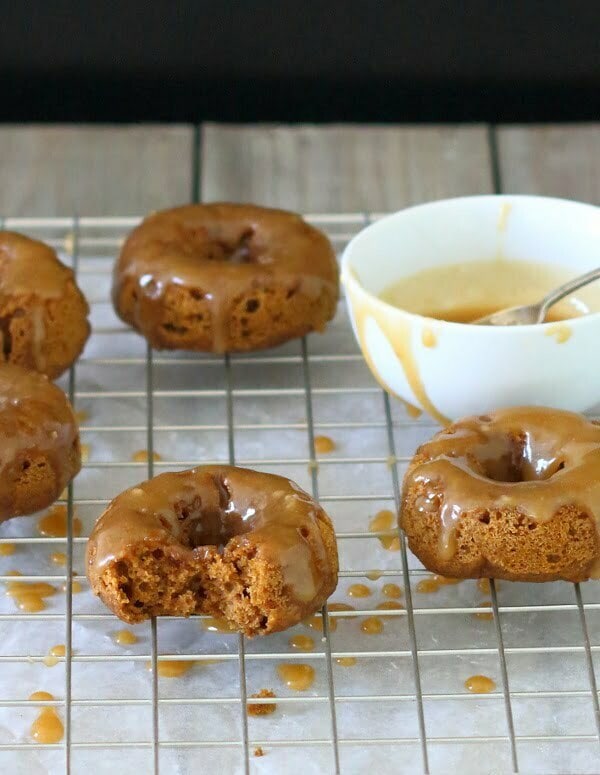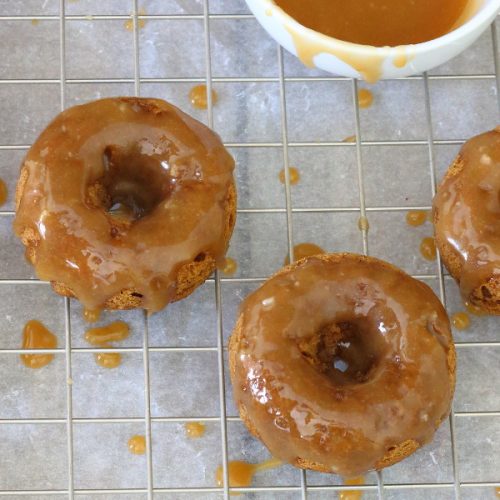 BAKED PUMPKIN DOUGHNUTS WITH SALTED MAPLE CARAMEL
These soft and fluffy baked pumpkin doughnuts are drizzled with a salted maple caramel for a sticky-sweet breakfast treat!
Ingredients
½

cup

(58g) plain (all purpose) flour

½

cup

(58g) plain wholemeal flour

1

teaspoon

baking powder

½

teaspoon

bicarbonate of soda

baking soda

Pinch

of sea salt

½

teaspoon

ground ginger

½

teaspoon

mixed spice

1

teaspoon

ground cinnamon

Dash of nutmeg

to taste

1

large egg

at room temperature

1

tablespoon

granulated sugar

¼

cup

(40g) packed light brown soft sugar

½

cup

(200g) pumpkin puree (make sure it's puree, not pie filling)

2

tablespoons

coconut oil

melted

1

teaspoon

vanilla extract

2

tablespoons

milk

at room temperature

⅓

cup

(80ml) maple syrup

2

tablespoons

(30g) butter

1

teaspoon

double

heavy cream

1

Pinch of sea salt
Instructions
Preheat oven to Gas Mark 4 (350F degrees). Lightly grease a six hole doughnut pan with non-stick spray and set aside.

For the doughnuts: In a medium bowl, whisk together the two flours, baking powder, bicarb, salt, ground ginger, mixed spice, ground cinnamon and nutmeg until well combined.

In a separate bowl, whisk together the egg and both sugars, then add the pumpkin puree, melted coconut oil, vanilla and milk, and whisk well to combine.

Add the wet ingredients to the dry and gently stir together until just combined, making sure there are no pockets of flour left. Leave the batter to stand for 5-10 mins, then spoon into the doughnut pan, filling each hole around ⅔ full.

Bake in the centre of the oven for 9-10 minutes or until well risen and firm to the touch. Allow to cool in the pan for 2-3 minutes, then turn out onto a wire rack to finish cooling completely. Rinse out the doughnut pan, then repeat the process for the remaining batter - I made 11 doughnuts in total.

For the salted maple caramel: In a small saucepan, heat the maple syrup and butter together, stirring constantly (I use a silicone spatula so the sauce doesn't catch on the pan). Bring to the boil, then allow to cook, still stirring for 3 - 4 minutes, it will bubble like crazy, and turn a golden brown colour. Remove from the heat, stir in the cream and salt, then allow to cool. It continues to thicken as it cools, and crystallises a little on the surface, but doesn't set completely. Drizzle the caramel over the doughnuts and serve!
Keep in touch with Slice of Kitchen Life:
PINTEREST | FACEBOOK | TWITTER
Want more breakfast ideas?
Baked Chocolate Doughnuts with Mocha Ganache Frosting