Does anyone have one of those gigantic, fancy griddles? You know the kind – they have two plates that open out flat, allowing you to cook lots of pancakes in one go.
Boy, I could have done with one of those griddles for this recipe…
All I wanted to do was cook a dozen pancakes. That's all.
It took me hours… (okay, maybe that's an exaggeration, but it sure felt like hours…)
Normally, I'm only cooking for two here. Pancakes for two people is pretty simple:
Make batter. Pour half the batter into a greased pan. Allow to cook, flip and finish cooking. Divide between two plates and add butter & syrup. Repeat.
To give me options when it came to photographing, I decided to double my usual pancake recipe. I wanted to make enough pancakes to be able to stack them. I also knew they would look more photogenic if I made them small and cute and pretty…
↑ Rookie mistake. ↑
Because I only had one (small) suitable pan, I ended up having to cook the pancakes individually (the things I do for this blog…)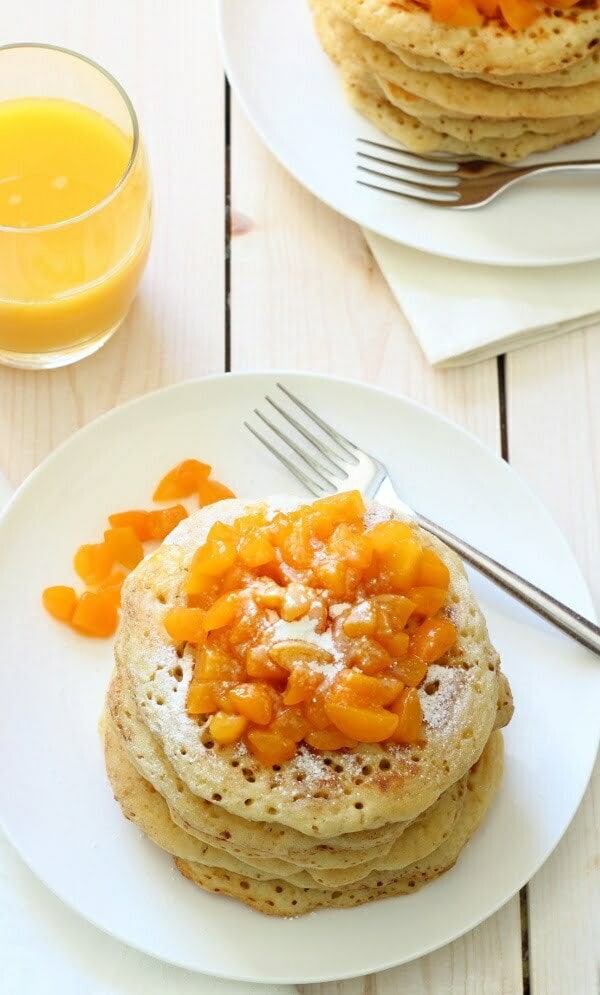 Stuff I learned while cooking pancake after pancake:
I can't cook a perfectly round, small, cute, pretty pancake to save my life. Every single one of them ended up kinda oval-shaped (I blame the pan).
Cooking pancakes individually is incredibly boring. Boredom leads to distraction, which leads to burnt pancakes…
Even if the pancakes are occasionally overdone and took longer to make than a fancy dinner (mmm, breakfast for dinner…) they still taste delicious!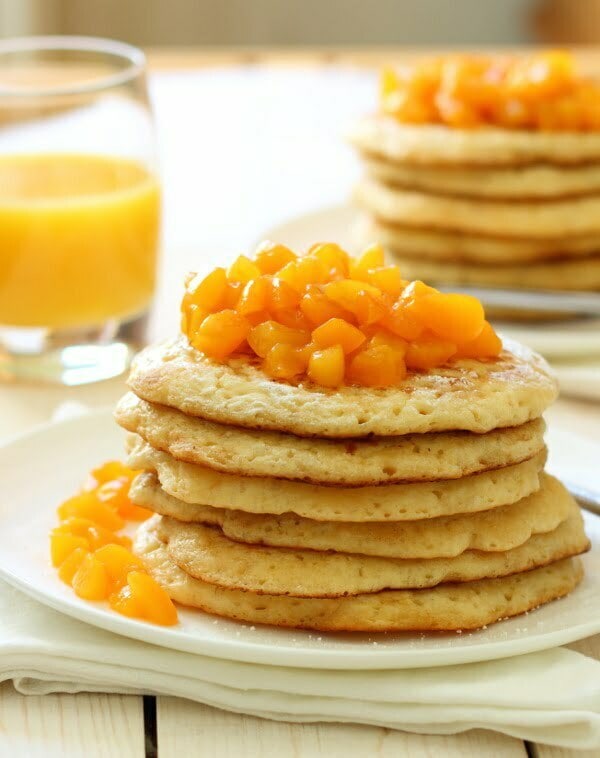 Everyone needs a good pancake recipe up their sleeve.
Well, not literally up their sleeve. That would just be weird. But you know what I mean. A foolproof, reliable recipe. An – it's the weekend, let's celebrate with a special breakfast – kind of recipe.
This is mine.
The ingredient list is pretty short, the recipe is super simple to make, and it never lets me down. Yes, it creates a little extra washing up – melting butter and whisking eggs, mixing the wet and dry ingredients separately before combining them – but it's worth it…pancakes are always worth it!
Usually, I eat my pancakes with butter and syrup (I'm nothing if not a creature of habit…) But I've found syrup difficult to photograph unless you use half a bottle's worth at a time – far too sweet (and expensive!) for me. Instead, I poached some diced apricots in a splash of orange juice, and added vanilla extract to make a fruity, not-too-sweet topping (then ended up drizzling maple syrup and sprinkling icing sugar to prettify it, oh well…)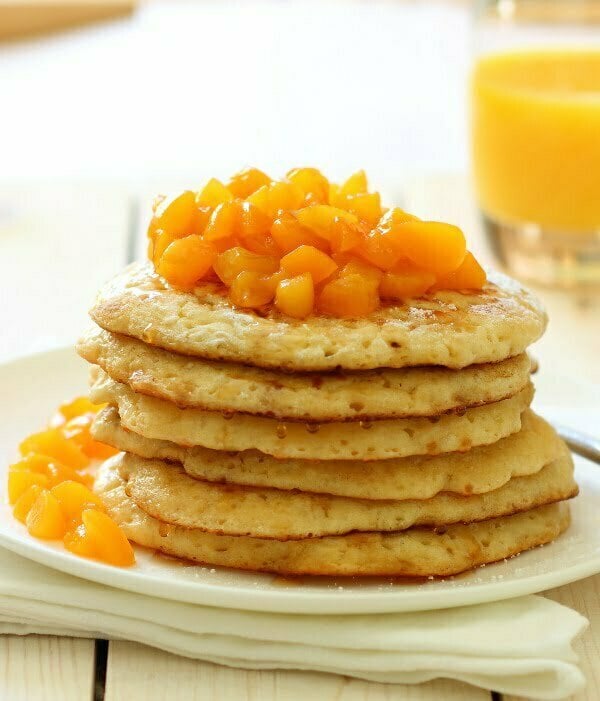 Soft, extra thick, fluffy pancakes (large or small, stacked or not stacked, it's your choice!) Lots of melted butter and a drizzle of syrup. A good strong black coffee (or two). Nowhere in particular to go. Nothing in particular to do.
Just typing those words makes me feel relaxed. I think the trauma of the massive pancake making session might be lessening.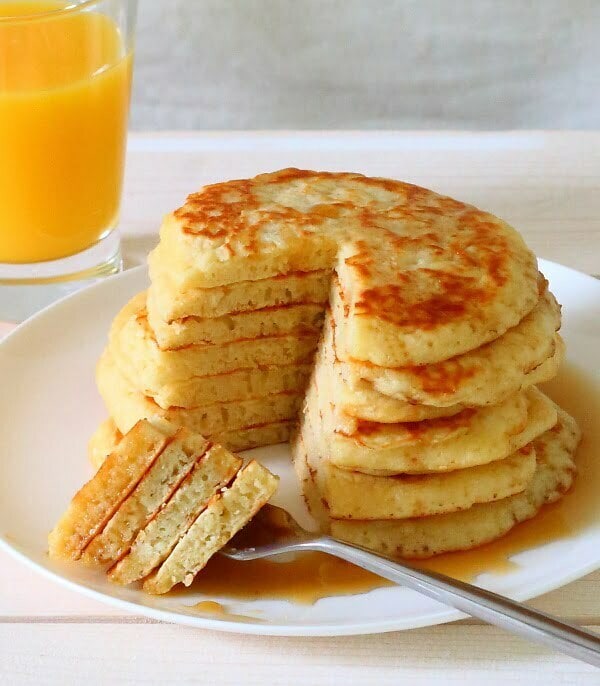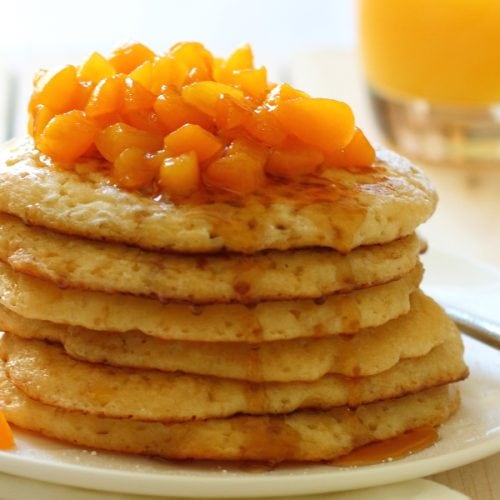 SUPER SIMPLE FLUFFY PANCAKES (MADE FROM SCRATCH)
Super simple, soft, fluffy pancakes. Everyone needs a reliable, great tasting pancake recipe in their repertoire. This is mine.
Ingredients
2 and ¼

cups

(270g) plain flour

1

tablespoon

granulated sugar

2

teaspoons

baking powder

¼

teaspoon

salt

1 and ¼

cups

(300ml) milk

2

large

eggs

lightly beaten

¼

cup

(55g or 2oz) butter

melted and cooled (plus more for cooking)
Instructions
In a large bowl, sift together the flour, sugar, baking powder and salt. In a separate bowl (or jug), whisk together the milk and eggs, then whisk in the melted butter.

Pour the wet ingredients into the dry and stir together until completely combined (I use a fork vigorously, then finish with a silicone spatula to make sure there are no pockets of flour left). The batter may look a little lumpy - that's okay. Leave the batter to stand for a few minutes.

Preheat a pan (or flat based griddle) over a medium-low heat. Add ½ teaspoon of butter and allow to melt, spreading it over the base of the pan.

Add a ladle of batter (or more if your pan is big enough to cook multiple pancakes at a time) and allow to cook until bubbles begin to form on the surface of the pancake. When the bubbles begin to burst, and the edges of each pancake are fully set, flip it and allow to cook for another minute or two on the other side. The pancakes are done when they are risen, firm to the touch, and each side is lightly browned. Using a lower heat and cooking slowly gives better results than using a high heat, and burning the outside before the inside finishes cooking!

Repeat the process for any remaining batter (I usually wipe the pan out and re-butter it, otherwise the butter just keeps browning.) You can keep the pancakes warm in the oven (or just eat them as they are ready!)

Serve with extra butter and syrup, poached fruit, or anything else you like.

Recipe can also be halved to make a pancake breakfast for two!
Notes
Cooking time will be 4-5 minutes per pancake, it depends on how many you can cook in one go.
Recipe lightly adapted from BBC Food: Fluffy American Pancakes.