Aaah, childhood…
Eating these grown-up chocolate cornflake cakes sure takes me back in time!
As a child, I remember mixing up batches of these as a special treat. I'm pretty sure it would have been one of the first 'recipes' I attempted. It must be some kind of rite of passage – to be considered old enough to be let loose with butter and syrup and chocolate!
I even remember feeling very cutting edge when I started adding cocoa powder into the mix for extra chocolate'y-ness (um, just go with it, I have no idea how to spell that…)
Also, was I the only child who would carefully check each cornflake cake before choosing, hoping to be the lucky one with the most gooey chocolate to cereal ratio?
No?
Okay, just me then…
Hmm, I was a strange child…
The main problem with regular chocolate cornflake cakes is that they have no particularly redeeming features on the nutritional front. Sure, they're great as an occasional treat, but they're definitely more of a sugar rush / sugar crash treat, than a sustained energy one…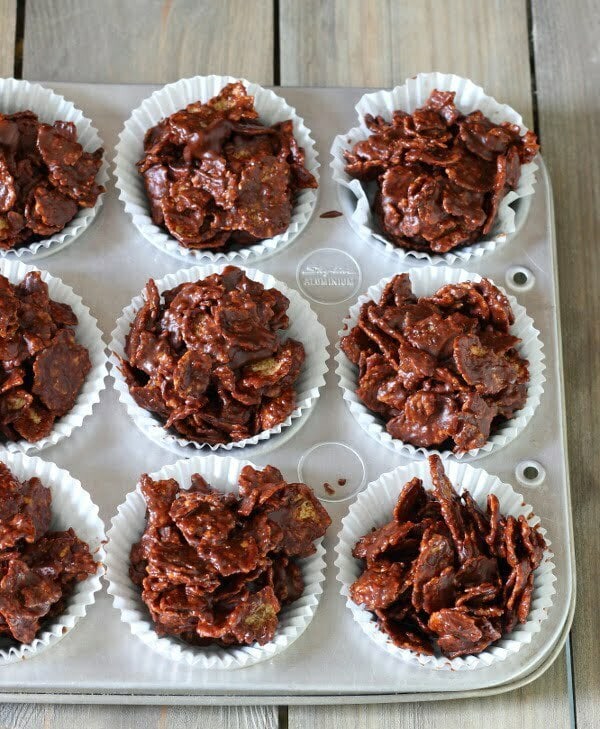 So, what's so grown-up about these particular cornflake cakes then?
Well, for a start, they still have chocolate in them – that isn't up for negotiation!
There's always room for chocolate…
It's just, instead of the (invariably) extra sugary, milk chocolate I used to use, I've swapped it for a dark 70% cocoa solids that my more mature taste-buds prefer (read: I've taught them to appreciate…)
They also still have cereal in them. In this case, I swapped cornflakes for Special K (after craving a bowlful recently, I'd bought a box for the first time in years). You can, of course, use any cereal you like, I was just far too lazy to go shopping again!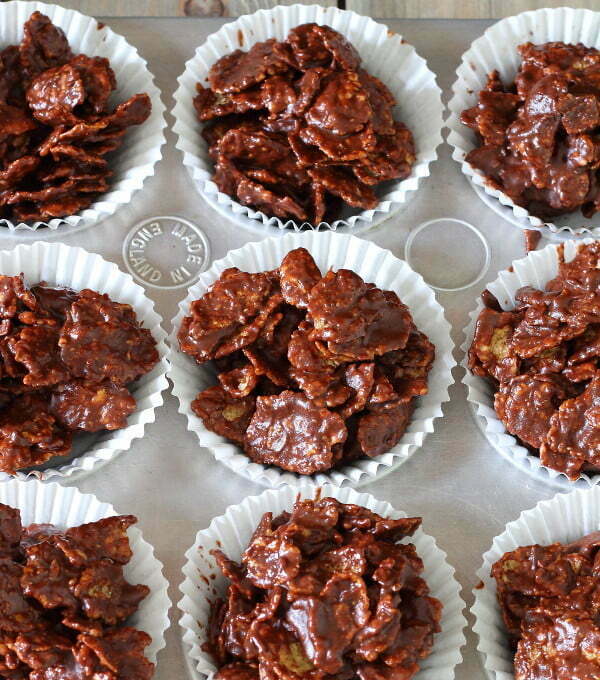 Oh, and if super-crunchy is what you're after, make sure you use a brand new, unopened packet of Special K – I'm talking crunch, crunch, crunch all the way through!
The real difference is in the rest of the ingredients. To boost the healthy fats, protein and fibre, I used my favourite combination of nut butter + coconut oil + honey + a little vanilla extract.
I've used a variation of this mixture a few times before. It's the basis for my cranberry coconut granola bars as well as my latest obsession, these chocolate and cherry energy bites. When you melt this combination of ingredients together they transform into a sticky, gooey, bowlful of liquid chocolate'y-ness (there I go again…) all I want to do is dive in with a spoon!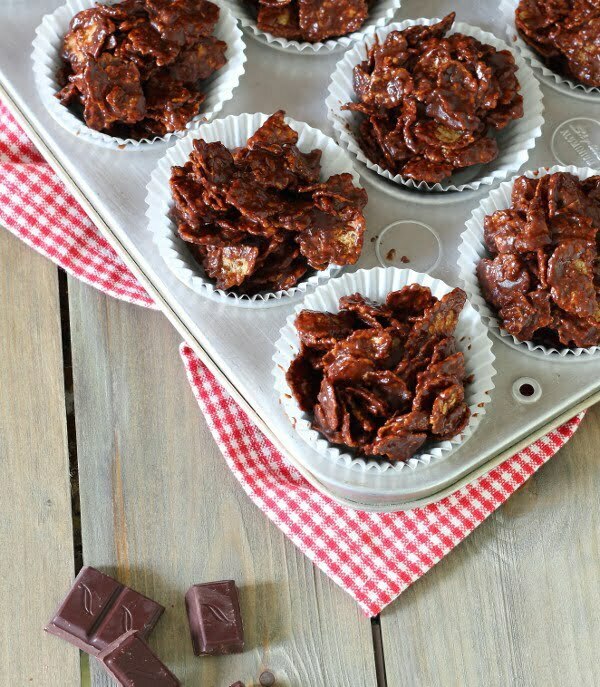 I've used smooth cashew butter, almond, or a mixture of the two before, they all work beautifully. I can't taste the nut butter too much (big bonus for me, as I don't really like it on its own – I said I was strange…) instead, you just taste gooey, sticky, chocolate coated cereal that takes you back to a time when mortgages, and bills, and work were just things that grown-up's dealt with, while you licked the spoon, then ran away when someone wanted the washing up done…
Ready to eat some chocolate cornflake cakes that are sticky, gooey, filling (really, really filling!) and so tasty, they feel like a naughty treat not a grown-up snack?
Yeah, me too!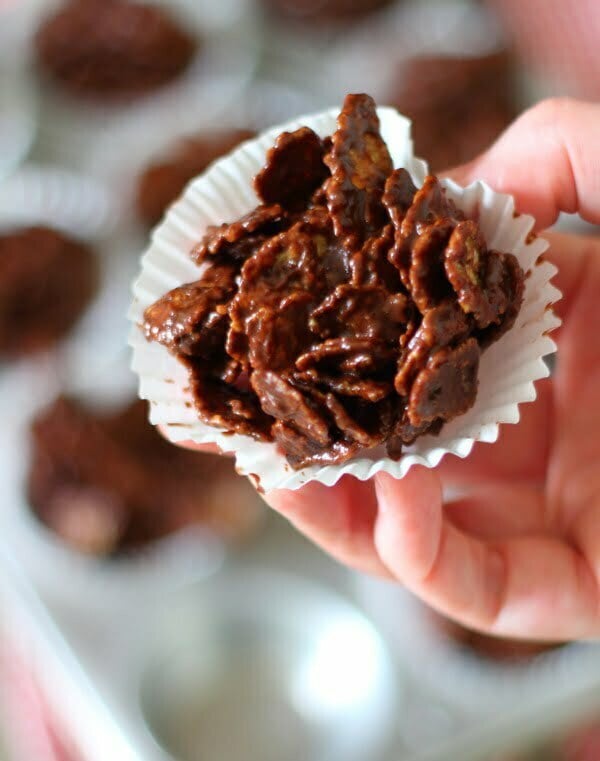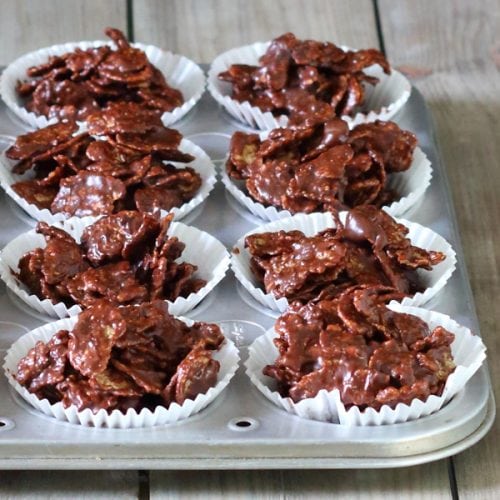 Grown-up Chocolate Cornflake Cakes
Chocolate Cornflake Cakes – My childhood favourite, with a grown-up, healthier twist to include protein, fiber and healthy fats!
Ingredients
½

cup

(130g) smooth cashew butter (or almond, or a combination)

1

and ½ teaspoons vanilla extract

2

tablespoons

coconut oil

3

tablespoons

honey

½

cup

(70g) dark (70% + cocoa solids) chocolate

4

cups

(160g) Special K cereal (or your favourite)
Instructions
Line a bun/muffin tin with paper cases and set aside.

In a large, microwave-safe bowl, combine the nut butter, vanilla, coconut oil, honey and chocolate and stir together. Microwave on short (5-10 second) blasts, stirring each time until the mixture is smooth and glossy, and the chocolate is fully melted.

Add the cereal, and stir well until it's completely coated.

Spoon the mixture into the paper cases, and refrigerate until required. They are best eaten cold, straight from the fridge (the chocolate mixture begins to liquify again at room temperature).
Keep in touch with Slice of Kitchen Life:
PINTEREST | FACEBOOK | TWITTER
Looking for some more bursts of energy?
Apricot and Almond No-Bake Energy Bites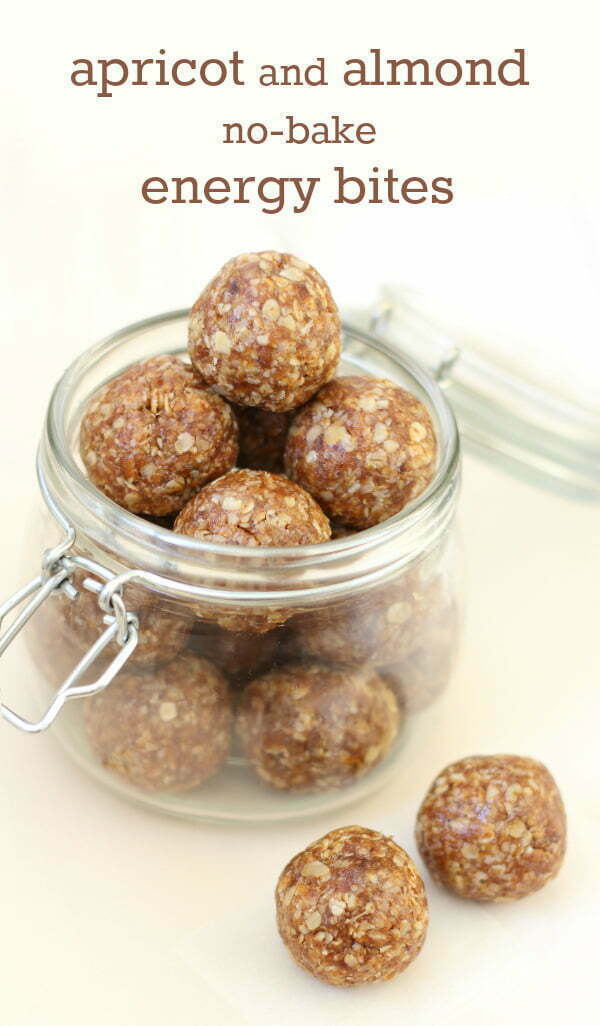 Coffee and Walnut No-Bake Energy Bites