When you need a quick burst of energy without an equally quick sugar crash on the other side?
These apricot and almond no-bake energy bites will do the job – healthy ingredients (no refined sugar!) Quick and easy to make (no oven required!) And stuffed full of sustainable energy (oats! nut butter! dried fruit!) – all rolled up in a neat little portable snack!
Okay, so I maybe used a few too many exclamation points in that last paragraph. I guess it might be time to swap to the de-caff now…
I never quite know what to call these little pop-able snacks that keep me going through my day…or at least until lunchtime!
Bites? Balls? Bars?
Whatever you prefer to call them, they're a fantastic invention.
A little blitzing, a few minutes spent stirring everything together in a bowl, and you are gifted with a stash of healthy snacks that keep well, travel well, and taste delicious!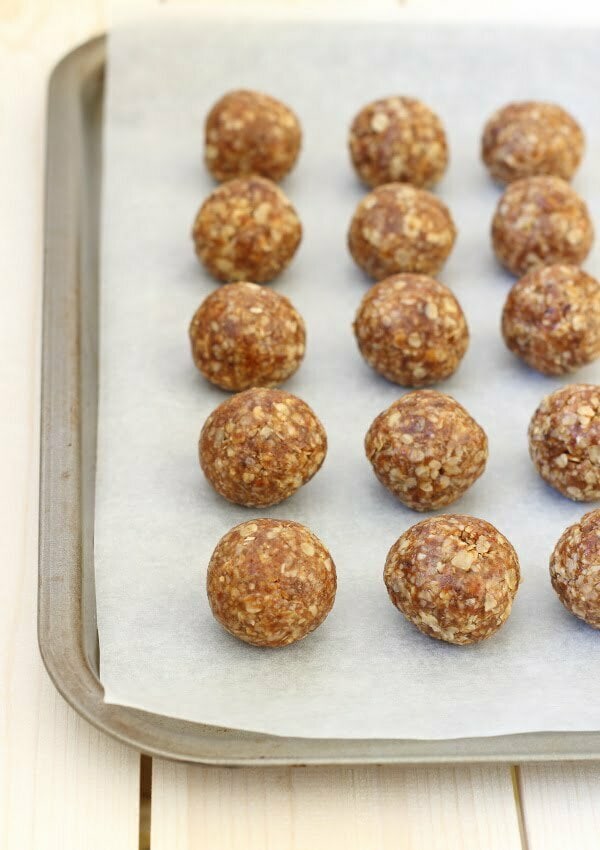 I always keep a supply of different flavours of no-bake energy bites in the freezer, ready for us to grab on the way out the door. Their small size makes them easy to eat on the go, but the amount of nutrients packed into each bite means they really take the edge off pre-lunch hunger.
I only wish I'd known about energy bites back in my time as an office paper pusher – the morning doughnut run would have been a lot easier to resist with these babies around…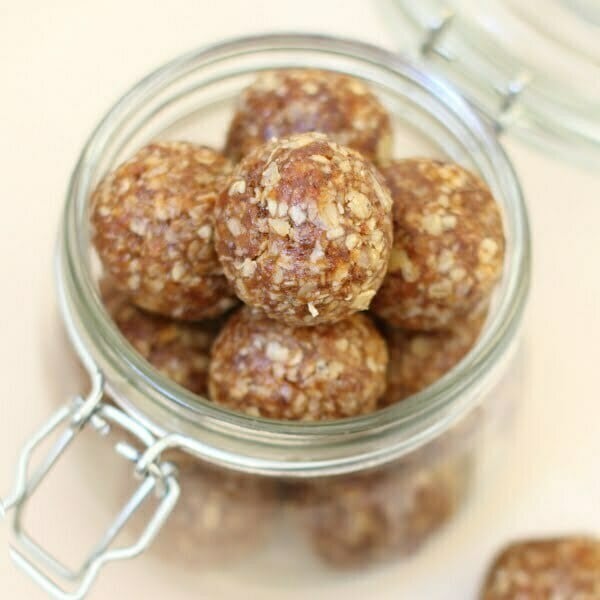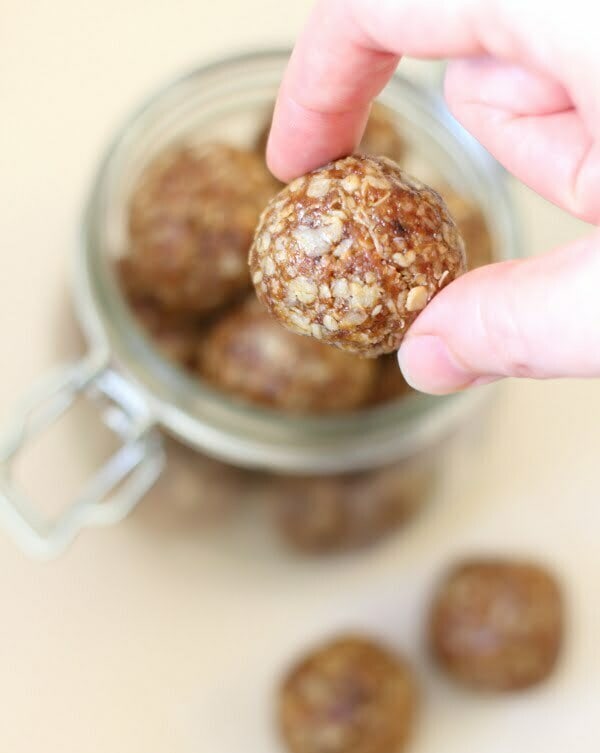 In the spirit of "it's too hot to turn on the oven", I decided to experiment with some new energy bite flavours. You see, I've always been kinda jealous of all the recipes I see floating around that use dates as their base ingredient. My food processor is actually the bowl attachment of my stick blender and I just don't want it to blow up struggling with ultra sticky dates.
Recently, I made an apricot and almond streusel bread for my Dad, and was left with half a packet of dried apricots and a handful of flaked almonds to use up.
Idly chewing on a piece of dried apricot led me to wondering if they would work as a slightly less sticky date substitution (spoiler alert – they do…although you could probably tell that from the name of this recipe…)
The apricots I buy are unsulphured (they taste sooo good…) and are also partially rehydrated – this means I get flavour and softness combined. If your dried apricots are quite hard, try soaking them in hot water for a few minutes, then draining well before processing them.
To complement the fruitiness, I added in some classic apricot crumble flavours – oats, lemon juice, vanilla, cinnamon and almonds in the form of both nuts and butter (and a touch of extract if you like a stronger almond flavour!) A little honey both sweetens and helps everything bind together, and that's it, you are done!
Quick and easy, no-bake energy bites that are sticky, fruity and filling – the perfect (healthy) way to fill the gap between breakfast and lunch!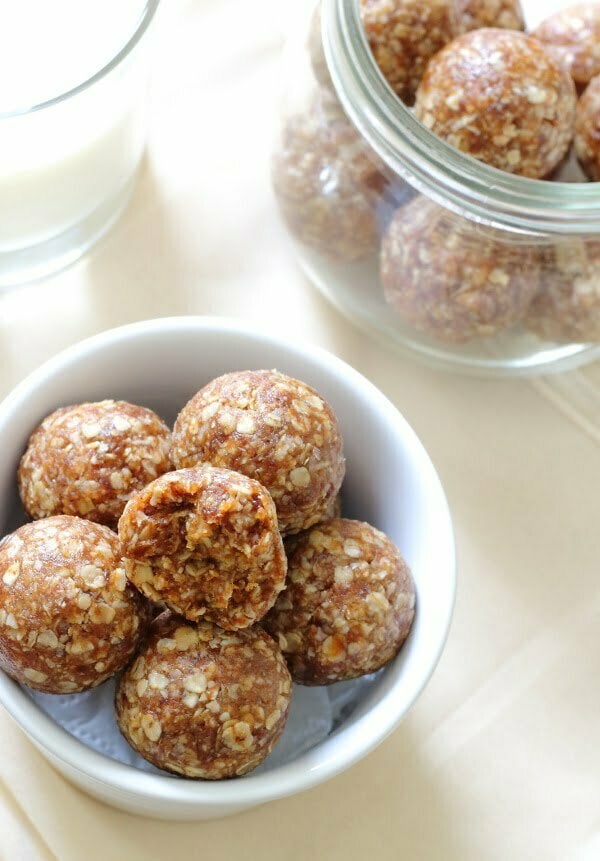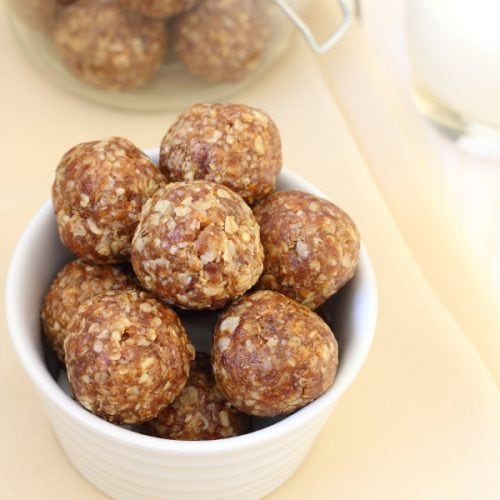 APRICOT AND ALMOND NO-BAKE ENERGY BITES
These apricot and almond no-bake energy bites come together in minutes for a fruity, filling and healthy snack!
Ingredients
¼

cup

(25g) flaked almonds (or can use whole)

¾

cup

(120g) dried apricots (soak in hot water and drain, if necessary)

2

teaspoons

lemon juice

1

teaspoon

vanilla extract

1

teaspoon

ground cinnamon

¼

cup

(60ml) honey

3

drops almond extract

optional

½

cup

(125g) almond butter

1

and ½ cups

(125g) rolled oats
Instructions
In a food processor, pulse the almonds until broken down into fine crumbs. Separately, pulse the dried apricots until they form a sticky paste (I use scissors to cut the apricots into smaller pieces first, to make it easier on my machine).

In a mixing bowl, gently stir together the apricot paste, lemon juice, vanilla extract, ground cinnamon, honey, almond extract (if using) and almond butter until combined. Add the rolled oats and pulsed almonds and stir together until thoroughly mixed.

Roll the mixture into balls (I made 18 at about 28g each). Store in an airtight container in the refrigerator for up to seven days. The bites can also be frozen if preferred, simply remove from the freezer at least 30 mins before eating.