Oftentimes, it's the simplest of things that bring me the most pleasure.
When I'm baking, ingredient lists can stretch to twenty items or more. While I love to bake (and I certainly love the end result!) sometimes less really is more.
These maple roasted carrots are a perfect example. A few basic store cupboard ingredients, and a hot oven, are all that's needed to transform an everyday (and let's face it, kinda boring) vegetable into a smoky-sweet, buttery, maple glazed, almost candy-ish treat.
Carrots and I have had a so-so relationship over the years. I'm not overly keen on them raw (unless they're grated and smothered in a creamy dressing à la coleslaw).
Hmm, I do love them in carrot cake…although I think that's more to do with the frosting than the actual carrot…cake is always about the frosting for me…
Um, not so much on the health benefits then…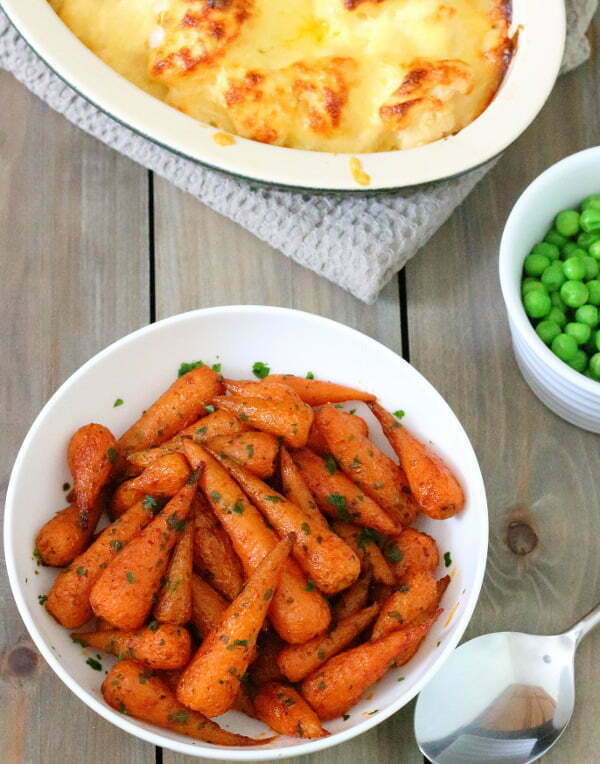 If I'm honest, plainly cooked carrots don't do much for me either – I'll dutifully eat them, I know they're good for me and all that important stuff, but I would probably always choose other vegetables above them.
So, for me to really enjoy eating carrots, I knew they'd need a little extra help in the flavour department. That's how this recipe came about.
Firstly, I chose to use baby carrots, they cost me an entire £1 for a 500g package – way more than I would usually pay for carrots, but I simply couldn't resist, they look so cute!!
Their natural sweetness (particularly in smaller form) is brought out by slowly roasting them in a little oil, then enhanced even further by a light coating of maple sweetened butter. A rich smoky kick is added by a generous dusting of smoked paprika, and the whole dish is finished off with a sprinkling of chopped parsley.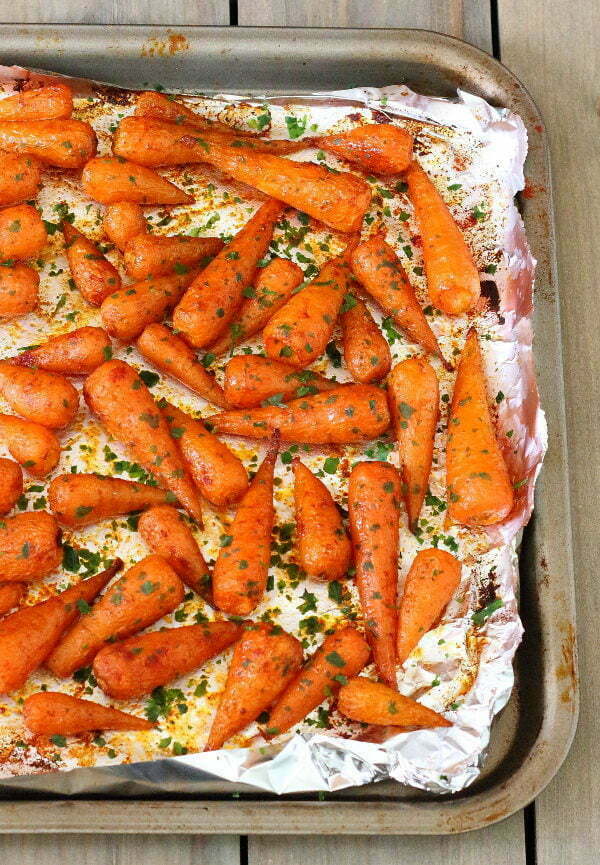 Because these maple roasted carrots are particularly easy-going, they work well with any slow-cooked or oven based dishes. Think pies and puddings, stews and casseroles, or the ultimate Sunday lunch – a full roast dinner.
Throw them in the back of the oven and they will happily pass the time, growing ever sweeter and more caramelised as they slowly roast.
The maple butter glaze. The hint of smokiness. The tender, extra sweet (and cute!) baby carrots – now these are the sort of carrots I can get on board with.
These are carrots I actually look forward to eating!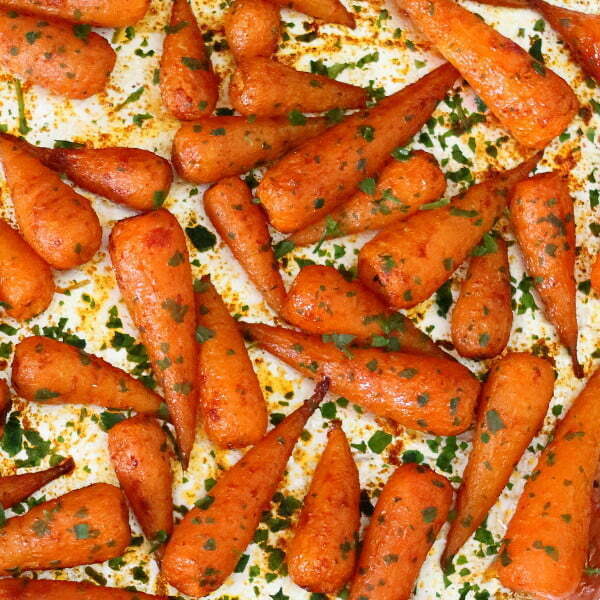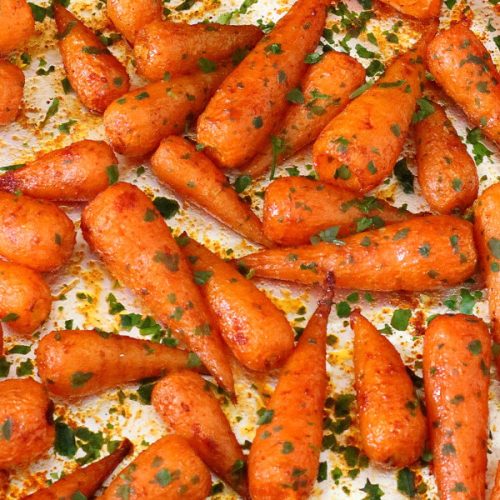 SMOKY-SWEET MAPLE ROASTED CARROTS
Transform boring everyday veg into something special - these smoky-sweet, maple roasted carrots only take a few minutes to prepare!
Ingredients
500

g

baby carrots

I use Chantenay

1

and ½ tablespoons oil

Sea salt

2

teaspoons

smoked paprika

2 - 3

teaspoons

butter

2 - 3

teaspoons

pure maple syrup

Fresh chopped parsley
Instructions
Preheat the oven to Gas Mark 5 (375F degrees). Line a large, rimmed baking sheet with aluminium foil (for easy clean-up) and set aside.

Wash the baby carrots and drain well, top and tail them if desired.

Tip the carrots onto the lined baking sheet (don't crowd them, you want them to roast, not steam). Drizzle with the oil. Sprinkle with the sea salt and smoked paprika, then toss the carrots gently to coat them with the seasoned oil.

Roast in the oven for 30-40 mins or until almost done. Melt the butter and maple syrup together, then drizzle over the carrots and toss together to combine (alternatively, you can brush the maple butter on with a pastry brush). Return the carrots to the oven for a final 5 minutes or until tender and lightly caramelised.

Serve immediately, sprinkled with chopped parsley.