Summertime has definitely arrived – the dawn chorus is waking me up waaay too early each morning (thanks guys – really appreciate the 4am alarm call…) the weather is heating up, and I have a craving for something cool, fruity, and easy to eat (read: drink!)
How about a cool, creamy, tangy, ultra thick strawberry cheesecake 'shake?
It's summertime (& cheesecake!) in a glass…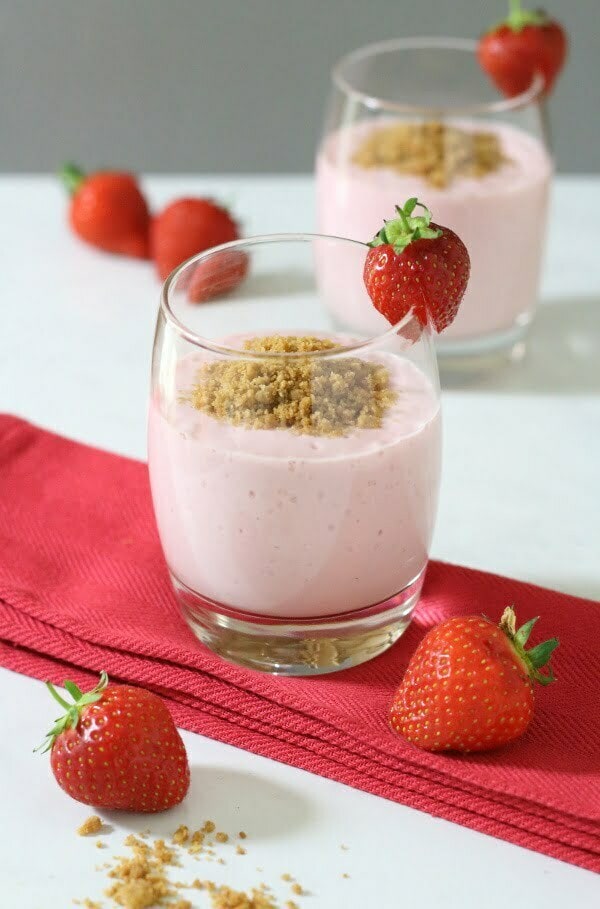 I wanted to create a recipe that was a little on the healthier side of 'shake territory. Although I love me a full on, creamy ice-cream style milkshake, I know my waistline won't thank me for indulging in too many of those!
I can only use the "it's too hot…" excuse for so long…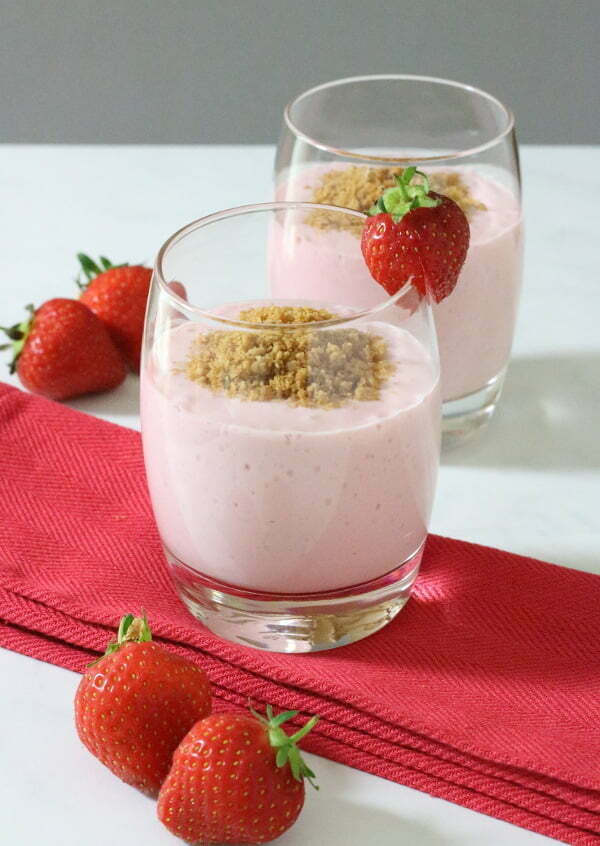 So, in order to introduce a little healthy into my summertime slurp, can I present the case for…wait for it…
Cottage cheese…
I can hear the groans from here…
Before you hit that little "x", let me explain…
I have a love / hate relationship with cottage cheese…
Okay, maybe that comes across a bit too strong, I actually quite like the taste – I don't know anyone who would wax lyrical and say they love the taste of cottage cheese though…
I don't even mind the texture (although I do have to be in the right frame of mind…is that just me?) but for years, I never, ever bought the stuff…
Why not? After all, I seem to buy pretty much every other type of cheese…it's kinda my thing…
So, what did I hate about cottage cheese, why did I refuse to buy it for so long?
Simple…just the sight of it made me feel deprived…
I know it sounds strange, but my brain always associated cottage cheese with being on a diet – I felt miserable, grumpy and deprived, simply by seeing that tub on the store shelf!
I don't do diets. When I was younger, I tried a few but was never much good at sticking to them (I guess I just love food too much!)
When I decided to focus my attention on balanced eating, with an emphasis on "real" food, cottage cheese somehow got dismissed as "nope – that's diet food – I'm not going there!"
Okay, so my inner voice apparently resembles a whiny brat…but what a wasted opportunity…
If you take the time to blitz cottage cheese in a blender, you get something that's still tangy and creamy, but also silky smooth (and super thick – the holy grail of milkshake making!) It still tastes like cottage cheese, but this way, it's much more versatile – spoon it into pasta dishes, mix it into a pancake batter, or in this case?
Drink it in the form of a strawberry cheesecake 'shake!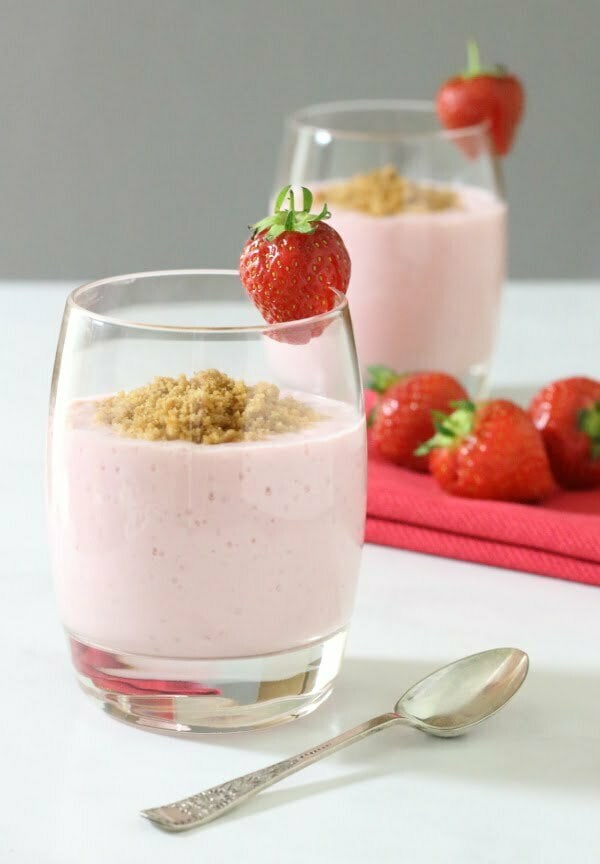 Even more good protein is added in the form of greek yogurt and milk. Tons of strawberries make that gorgeous pink colour – oh, okay, and the strawberry taste…
A sprinkling of cheesecake base style crumbs – crispy, crunchy golden toasted crumbs, made using digestive biscuits and coconut oil (a great source of healthy fat).
Add a fresh strawberry balanced on the glass – 'cos you've got to make it look extra pretty, right? and there you have it – creamy, tangy and extra thick – summertime in a strawberry cheesecake 'shake.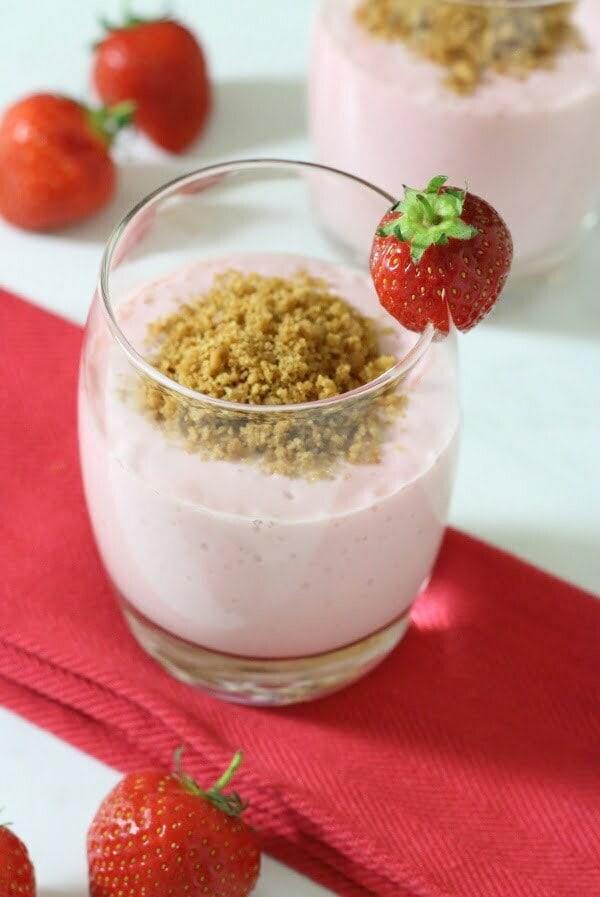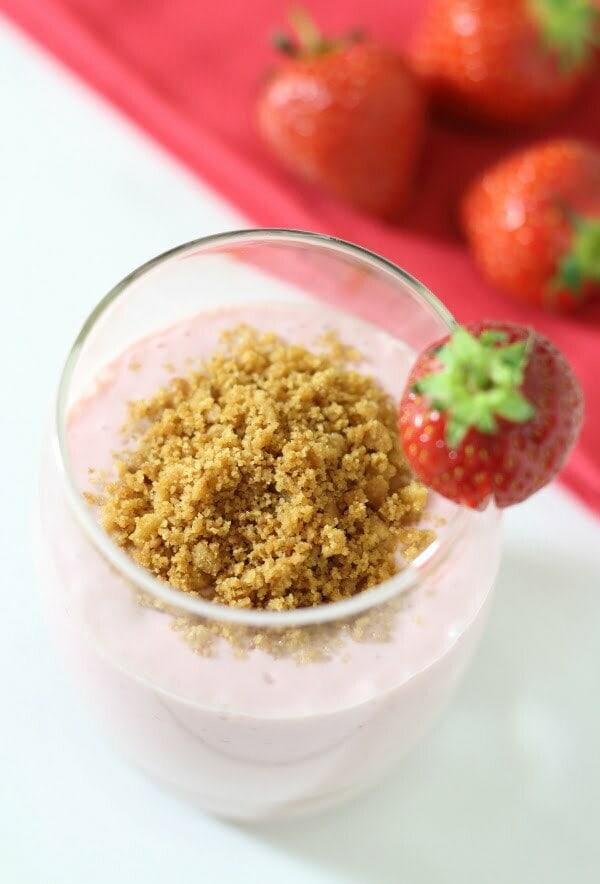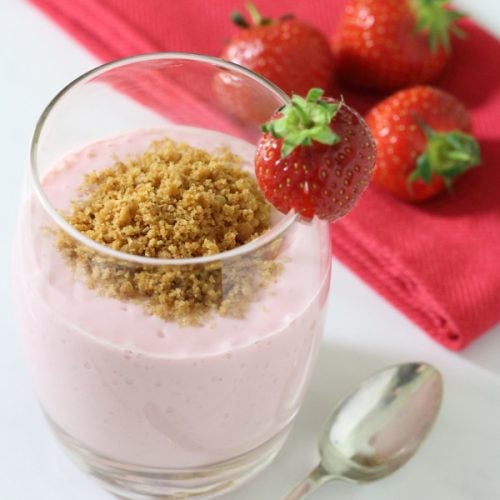 STRAWBERRY CHEESECAKE 'SHAKE
A great source of protein, this strawberry cheesecake 'shake combines all the flavours of a slice of cheesecake, in a healthy 'shake!
Ingredients
1

cup

(205g) cottage cheese

⅓

cup

(80ml) milk (I use whole)

2

cups

(260g) strawberries, chopped (use frozen for a thicker shake)

⅓

cup

(80g) greek yogurt

Maple syrup to taste

½

tablespoon

drinking oats / oat flour - optional*

3

digestive biscuits

finely crushed

2

teaspoons

coconut oil

melted
Instructions
Make the cheesecake crumbs first: Stir together the crushed digestive biscuits and melted coconut oil. In a dry frying pan over a medium heat, lightly toast the crumbs, stirring frequently until golden brown and crunchy. Set aside to cool.

In a blender, combine the cottage cheese and milk and blend until completely smooth, scraping down the sides when necessary.

Add the strawberries and greek yogurt and blend well. Adjust for sweetness with maple syrup (if your strawberries are ripe it shouldn't need much!)

If you want to thicken the shake more, add the drinking oats or oat flour and blend again to combine.

If using frozen strawberries, serve immediately, with a heaped spoonful of crumbs on top. Otherwise, chill for 10 mins to allow the oats to thicken the texture before serving.
Notes
* I like to use oats to thicken shakes - to make oat flour, simply grind some rolled oats into a fine powder in a coffee grinder or food processor.
Did you know we are now on Yummly? Yummly is a great free service that allows you to search for, save, organize and share all your favorite recipes online. Use the orange "YUM" button to add recipes to your own personal recipe box or check out the Slice of Kitchen Life Yummly recipe box here!