This is one of those posts that I hesitated to press publish on. I've wavered back and forth for months about even calling these twice-baked potato skins with chipotle, garlic and cheese a recipe, let alone posting it.
Although I did manage to come up with the longest name ever for a non-recipe recipe – but what was I supposed to leave out? The smoked cheddar cheese? – Nuh-uh, you know how I feel about cheese and carbs together The garlic? The chipotle? – I just couldn't bring myself to, the subtle little spicy kick is what makes these potatoes so darn delicious…
So twice-baked (cos, yum…) potato skins stuffed with chipotle, garlic and cheese (and topped with bacon, although it's entirely optional…) they are!
It's a pretty straightforward recipe, and incredibly forgiving, so I was worried if it could be considered enough of a recipe to be worthy of posting.
But, here's the thing about these potato skins … they taste so good … and I've made them so many times … that it feels kinda selfish holding on to them.
I just couldn't put off sharing any longer!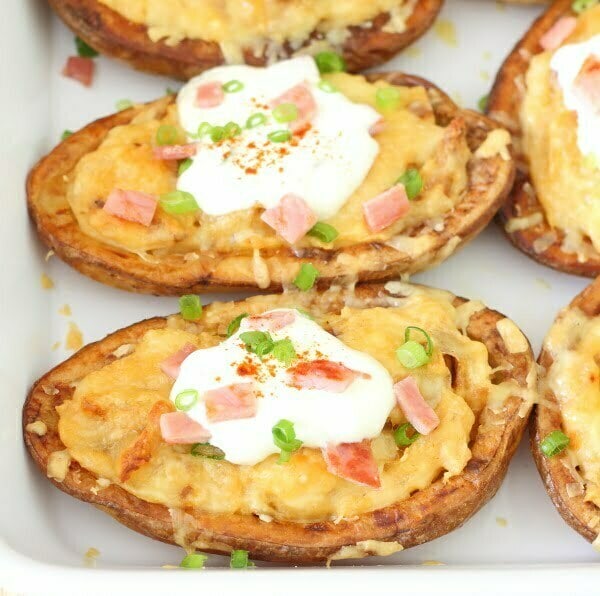 Although this post doesn't contain a huge long list of ingredients, and/or lots of detailed, complicated instructions, it does make for a batch of very easy, amazingly tasty, creamy yet crispy potato skins, stuffed with bacon and smoked cheese and garlic and chipotle and all the good things I could come up with.
And greek yogurt.
Could someone please stop me adding greek yogurt to everything I make.
It isn't even funny anymore.
(Andy is probably shaking his head right about now and saying: uh, it was never funny in the first place…)
Sorry, Andy.
Thank you for your patient and continued acceptance of my weird and not-so wonderful habits.
I promise to try and move on to a new food obsession soon…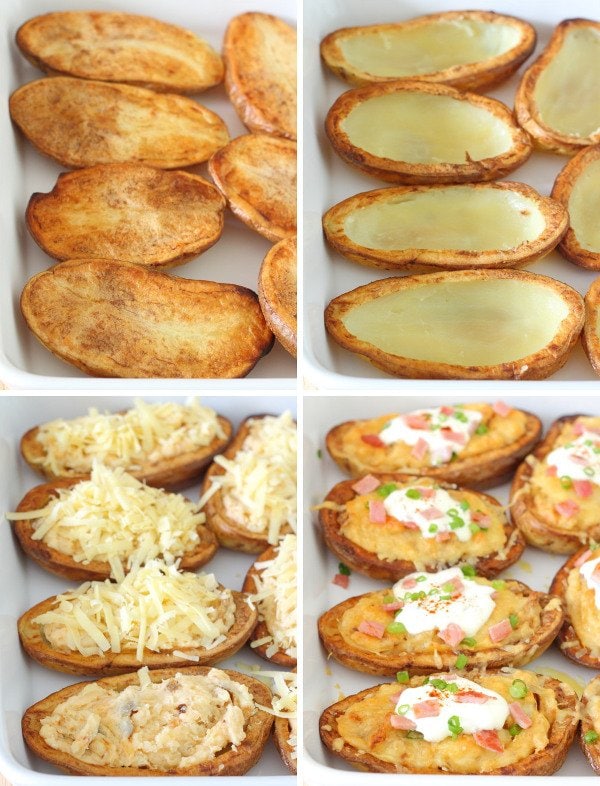 What's even worse, than a non-recipe recipe?
For some unknown reason, I'm posting this smack in the middle of August, the unlikeliest month that you'd want to turn your oven on … ever.
At this rate, Christmas recipes will probably be arriving just in time for Valentine's Day … oh, well…
By rights, I should probably be posting recipes using something summer-y like zucchini about now, but if this is going to work between us?
Let's just accept right now that I'm not one of those organised people who can come up with relevant recipes for appropriate occasions…
I envy them, heck, I aspire to be one of them … but it's highly unlikely I'm ever going to be admitted to that club … I think the organising gene may have gotten left off the list when I was created.
Figures, really.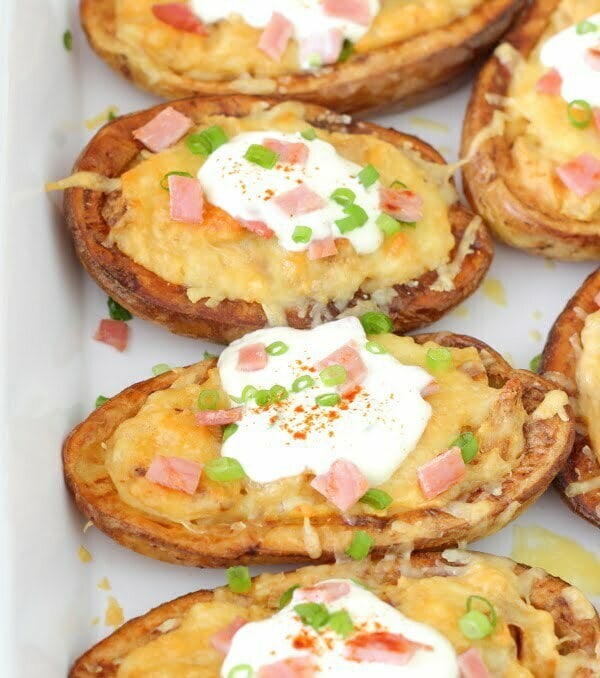 Um, let's see, a good reason for making potato skins in August?
The NFL has just emailed me to remind me my Gamepass subscription is due for renewal…
So, yay – it's (nearly) football time! ← football + potato skins is a tradition I'm very happy to get on board with!
What started as simply wanting something different for dinner than the usual same-old same-old has now become a regular rotation in the SOKL household. We almost always have a batch of these in the freezer, ready for that 'it's 5.30pm and I don't know what we're having for dinner' moment…
Why does this happen? Every day. It's like Christmas, it's not as if it just happens to pop up into our schedules unexpectedly…
Although, to tell you the absolute truth, we eat our main meal at lunchtime – it just doesn't sound right if you say, that 11.45am moment…
And I've just mentioned Christmas twice in one post. In August.
Oops.
Okay, Lunch. Dinner. Appetizer. Game Day food – it's all good!
Make these twice-baked potato skins – taste the creamy, cheesy garlic filling, the crispy, crunchy skins, the cheese and bacon and spring onion and sour cream … and then tell me it's not worth putting your oven on for.
Even in August!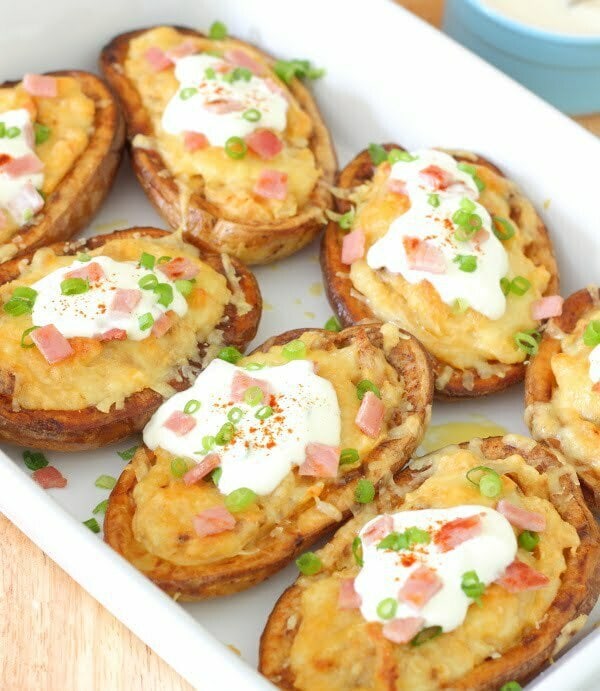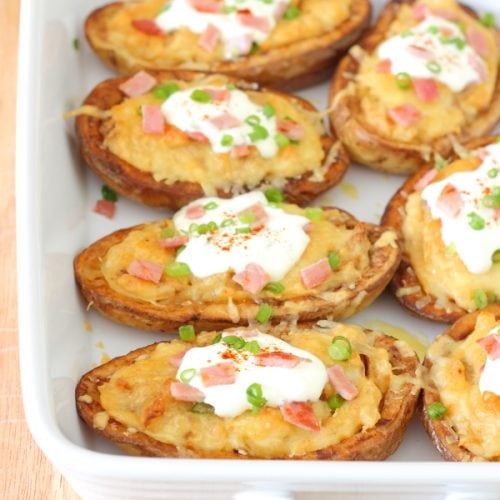 TWICE-BAKED POTATO SKINS WITH CHIPOTLE, GARLIC & CHEESE
These chipotle, garlic and cheese stuffed twice-baked potato skins are creamy, crispy, full of flavour and impossible to resist!
Ingredients
4

large baking potatoes

mine weighed around 700g *

1 - 2

tablespoons

olive oil

4

tablespoons

greek yogurt

2

teaspoons

garlic powder

large pinch of sea salt

½ - 1

teaspoon

chipotle chilli paste **
Instructions
Preheat the oven to Gas Mark 6 (400F degrees). Slice each potato in half lengthways. Lightly brush all over with oil and place, cut side up on a baking tray / large casserole dish.

Bake fairly near the top of the oven until the cut sides of the potatoes are blistered and golden brown (this adds extra flavour and texture to the mashed potato filling later). They will be done when you can easily slide a knife into them (mine take around 40 - 45 minutes).

Remove from the oven, using a teaspoon (mind your fingers, it's hot!) scrape out the inside of each potato, leaving a thin layer of flesh attached to each skin.

If you want your skins to be extra crispy, brush the insides with any remaining oil and return to the oven while you prepare the filling.

In a bowl, combine the potato flesh, yogurt, garlic, salt and chipotle paste and mash with a fork until well mixed and fairly smooth.

Spoon the mixture back into the potato skins, top with shredded cheese and bake for another 15-20 mins or until the cheese is golden brown and bubbling.

Serve with a scattering of bacon pieces (if desired), spring onion, sour cream and a sprinkling of smoked paprika.

If you have any left (um, how?) you can store, covered in the refrigerator for up to two days. Reheat for 20-25 mins at Gas Mark 6 (400F degrees).
Notes
* I used Vivaldi - they are a really creamy, no-butter-needed baking potato variety.
** Or to taste - depending on your spiciness preference / chipotle paste. I've never been able to find pure chipotles round here, the paste I use is very concentrated and made with tomato, onion and garlic, it has a chilli rating of four for hot (if that means anything...)
Keep in touch with Slice of Kitchen Life:
PINTEREST | FACEBOOK | TWITTER
Want more delicious, comforting, cheesy potatoes?